Cathy Cesario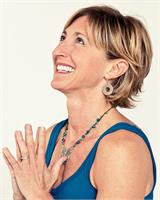 Cathy Cesario is the Director of Spirit Tree Yoga Teacher Training. She holds degrees in psychology and English and is a registered yoga teacher trainer with the Yoga Alliance at the most advanced level. A student of yoga and Buddhism since 1985, Cathy has taught vinyasa, ashtanga, and hatha yoga since 1991. Greatly influenced by Iyengar and Ashtanga traditions, she has received teaching from Patricia Walden, Barbara Benagh, Angela Farmer, and Robert Svaboda, among others. She holds certifications in pilates mat, energy medicine, hypnotherapy, and as a shamanic practitioner at the advanced level. She is an Interfaith Minister and a sound healing artist, and uses sound/vibration for both sacred ritual and integrative healing.
Cathy was trained in the Way of the Gong by Grand Gong Master Don Conreaux. She collaborates with Stephanie Marisca and Divine Harmony in monthly Gong Baths at All That Matters and other healing events and rituals.
Cathy is a member of the International Association of Yoga Therapists (I.A.Y.T.) and has done work with cardiac care patients at Quincy Hospital in Massachusetts, has worked with inner city teenagers, and has lead teen leadership workshops for East Greenwich public schools. Her private practice addresses a wide range of therapeutic issues, including treatments for back and neck problems, anxiety, depression, fertility, trauma and abuse, migraines, postural therapy, insomnia, hormonal imbalances, cancer, multiple sclerosis, chronic pain management, chronic fatigue syndrome, lyme disease, and osteoporosis. She also enjoys helping athletes to develop greater strength and agility through yogic postures and breathing exercises.
Cathy Cesario instructs the following:
This is one of our

Focused

classes.

Our Yoga Pilates class combines the basics of Pilates with yoga postures focused on the torso, abdomen, and spine to help practitioners build core strength.




Yoga on the Beach runs from July through the beginning of September only.
Join us on the South Kingstown Beach on Matunuck Beach Road. Bring a yoga mat, blanket or beach towel and sun block, and wear layers. Parking is free for students. If it rains class will be cancelled, and can be made up in any All That Matters yoga class. If you do not pre-register please bring $16 cash.

Directions to South Kingstown Town Beach from All That Matters:
1. Take Route 1 South and follow signs to Matunuck Beach Road.
2. Take Matunuck Beach Road exit. The exit will be on the left (so you will be going North on Route 1 once you make the U-Turn on the left).
3. From Route 1 North, take the first exit on the right, which is Matunuck Beach Rd. Follow the road almost to the end of the long straight stretch until you see signs for South Kingstown Town beach on the right. (If you've passed the Vanilla Bean you have gone too far.)
4. Turn right into the South Kingstown Town Beach parking lot. Tell the attendant you are there for yoga. Walk past the playground and the buildings to the field beyond (follow the path and the Yoga on the Beach signs).


Note: This is NOT at Narragansett Beach.




This is one of our

Flow

classes.

Vinyasa Flow I/II is a moderately paced Vinyasa practice that connects movement and awareness to breath in a dynamic sequence. Classes introduce inversions, backbends and arm balances as well as yoga philosophy for students looking to expand their physical practice and deepen their understanding of the many facets of yoga.