Coral Brown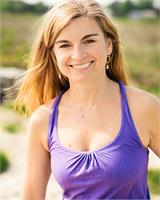 Coral Brown is a licensed mental health counselor who draws on her extensive experience in yoga, philosophy, and holistic counseling to provide fertile, open space for the process of healing and transformation. Coral is a senior Prana Vinyasa Flow teacher and has also trained in the Iyengar and Jivamukti methods.
She leads teacher trainings as well as retreats and workshops worldwide. Coral is a regular contributor to Yoga Journal and is a featured teacher on Yoga Vibes and OneOEight.tv.
Learn more at coralbrown.net.
Coral Brown instructs the following:
This is one of our

Flow

classes.

Vinyasa Flow I/II is a moderately paced Vinyasa practice that connects movement and awareness to breath in a dynamic sequence. Classes introduce inversions, backbends and arm balances as well as yoga philosophy for students looking to expand their physical practice and deepen their understanding of the many facets of yoga.

This class is done in a heated room. The heat encourages greater flexibility and detoxification. Yoga experience is necessary and students are asked to bring a towel, mat and water.




This is one of our

Flow

classes.

This introductory Vinyasa Flow class moves at a gentle pace to establish strength, flexibility, and balance within a continuous sequence of postures. Vinyasa Flow I is designed for newer and intermediate students looking to hone in on proper alignment while honoring and exploring the connection between movement, breath and mindfulness—the fundamental building blocks of Vinyasa.