Mel Gorman Wegimont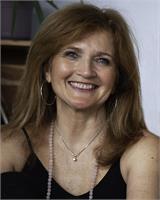 Mel Gorman Wegimont is a hatha and vinyasa yoga teacher who wears her zest for life like a sparkly jacket. She became a student of yoga and the healing arts in 1999, when a friend brought her – one week after a breast-cancer diagnosis – to Kendall Sheldon's yoga class. In that first class Mel discovered the healing power of yoga, and today she is not only radiantly healthy but also joyfully sharing the healing benefits of yoga with students and mentoring others coping with cancer. Mel's journey with yoga has taken her to India and beyond. She completed her 200-hour teacher training with Cathy Cesario of Spirit Tree Yoga and her 500-hour Prana Flow® teacher training with Coral Brown. She is also certified in Reiki I and II.
Mel's alignment-based yoga practice and teaching are formed by study with numerous teachers, and focus on safety, ease and joy, awareness, breath, and flow. In her classes students encounter a mixture of levity, reverence, and honesty as Mel guides them to their own experience of yoga. She encourages students to take their yoga – this practice of finding what they need in body, spirit, and heart – off their mats and into their lives.
Mel Gorman Wegimont instructs the following:
This is one of our

Flow

classes.

This candlelit class offers a meditative transition into the evening through a slow flow. Sequences are crafted to work the body and release muscle tension while creating space for self-care and unwinding from the day.




This Yoga I/II blended class includes key instruction for beginner yogis, while offering options for experienced yogis to deepen and further their practice. Teachers address various levels while adapting to students' needs.




This gentle class helps yogis release tension and unwind. Welcoming all levels, Stretch + Breathe pairs gentle, lengthening movements with breath work to create a balanced experience of groundedness, fluidity, and ease—both physically and energetically.




This is one of our

Focused

classes.

Help build bone density, increase overall strength, and improve balance, coordination and flexibility. Practitioners use light weights and sandbags during this bone-beneficial yoga practice. It is never too early to ensure healthy bones for your future!




This is one of our

Flow

classes.

This introductory Vinyasa Flow class moves at a gentle pace to establish strength, flexibility, and balance within a continuous sequence of postures. Vinyasa Flow I is designed for newer and intermediate students looking to hone in on proper alignment while honoring and exploring the connection between movement, breath and mindfulness—the fundamental building blocks of Vinyasa.




Yoga on the Beach runs from July through the beginning of September only.
Join us on the South Kingstown Beach on Matunuck Beach Road. Bring a yoga mat, blanket or beach towel and sun block, and wear layers. Parking is free for students. If it rains class will be cancelled, and can be made up in any All That Matters yoga class. If you do not pre-register please bring $16 cash.

Directions to South Kingstown Town Beach from All That Matters:
1. Take Route 1 South and follow signs to Matunuck Beach Road.
2. Take Matunuck Beach Road exit. The exit will be on the left (so you will be going North on Route 1 once you make the U-Turn on the left).
3. From Route 1 North, take the first exit on the right, which is Matunuck Beach Rd. Follow the road almost to the end of the long straight stretch until you see signs for South Kingstown Town beach on the right. (If you've passed the Vanilla Bean you have gone too far.)
4. Turn right into the South Kingstown Town Beach parking lot. Tell the attendant you are there for yoga. Walk past the playground and the buildings to the field beyond (follow the path and the Yoga on the Beach signs).


Note: This is NOT at Narragansett Beach.