Dr. David Dwyer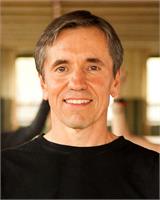 Dr. David Dwyer, a chiropractor in private practice in Rhode Island since 1987, is also co-owner of All That Matters. He is a dedicated yogi and meditation teacher, 4-time marathon runner, and a "Tough Mudder" (with a team, he ran an 11-mile obstacle course designed to test strength, stamina, mental grit, and camaraderie – and to raise money for the Wounded Warrior Project).
David has completed post-graduate training in neurology, acupuncture, nutrition, chiropractic and soft tissue techniques including Sacral Occipital Technique, Torque Release Technique, Network Spinal Analysis and Active Release Technique. He has been a member of the Chiropractic Society of Rhode Island and the American Chiropractic Association since 1987. A yoga teacher at All That Matters since 1996, David began to delve into yoga in 1985 and has studied with several teachers, including Richard Freeman, David Swenson, and Eric Shiffman. He received his teacher certification through the Kripalu School of Yoga. Also a teacher of meditation, David began his practice in 1977 with Transcendental Meditation. In 1994, he began to study with his current spiritual teacher, Maharishi Maheshananda (Michael Mamas).
David's yoga teaching is predominantly informed by his study of the Ashtanga system, his own experience on the yoga mat, and knowledge gained as a doctor of chiropractic. His classes favor the concepts and language of Ashtanga, which focuses on the subtle mechanics of breath as a vehicle for accessing the intelligence of the body and where asana, in its many forms, is used as a means of amplifying the expression of that intelligence.
Dr. David Dwyer instructs the following:

Join Dr. David Dwyer – Chiropractor, All That Matters' Owner and Yoga Teacher – for the 3rd workshop in this series that explores the benefits of asana (yoga posture) practice through an increased understanding of breath mechanics and spinal-pelvic mechanics.

Through conceptual presentation, lecture and discussion begin exploring the relationships between anatomy, movement and breath. Then dive in and experience a yoga class designed to work with these concepts. Uncover factors that limit movement or create discomfort, as well as provide strategies for improvement. Walk away with an understanding of body mechanics, muscle anatomy, the role of connective tissue and the relationship of stability to mobility.

Great for yoga teachers and students alike. Attend all 3 workshops to learn about the entire body!

All levels welcome.

Workshops may be taken separately; however, content will build from course to course. Participation in the entire series is strongly recommended to attain the most benefit.

Fri, 6pm-8pm, Apr 7$39


Class size limited. Register early to reserve your space for each workshop.


This workshop fee is waived for students currently enrolled in 200-hour All That Matters' Yoga Teacher Training (YTT) program and for ATM Teachers. Please call the front desk to register at 401.782.2126.

Member Discount 10%

This workshop is at our

South Kingstown location.