Dr. David Dwyer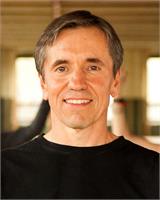 Dr. David Dwyer, a chiropractor in private practice in Rhode Island since 1987, is also co-owner of All That Matters. He is a dedicated yogi and meditation teacher, 4-time marathon runner, and a "Tough Mudder" (with a team, he ran an 11-mile obstacle course designed to test strength, stamina, mental grit, and camaraderie – and to raise money for the Wounded Warrior Project).
David has completed post-graduate training in neurology, acupuncture, nutrition, chiropractic and soft tissue techniques including Sacral Occipital Technique, Torque Release Technique, Network Spinal Analysis and Active Release Technique. He has been a member of the Chiropractic Society of Rhode Island and the American Chiropractic Association since 1987. A yoga teacher at All That Matters since 1996, David began to delve into yoga in 1985 and has studied with several teachers, including Richard Freeman, David Swenson, and Eric Shiffman. He received his teacher certification through the Kripalu School of Yoga. Also a teacher of meditation, David began his practice in 1977 with Transcendental Meditation. In 1994, he began to study with his current spiritual teacher, Maharishi Maheshananda (Michael Mamas).
David's yoga teaching is predominantly informed by his study of the Ashtanga system, his own experience on the yoga mat, and knowledge gained as a doctor of chiropractic. His classes favor the concepts and language of Ashtanga, which focuses on the subtle mechanics of breath as a vehicle for accessing the intelligence of the body and where asana, in its many forms, is used as a means of amplifying the expression of that intelligence.
Dr. David Dwyer is currently not instructing any classes.