Dr. Alan Post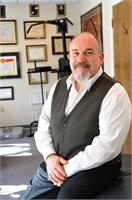 Alan Post, a chiropractic physician since 1982, practices integrative medicine in North Kingstown. He has post-graduate certification in acupuncture, is active in health care reform, and is member and past president of many boards and organizations. In the 1970s and early '80s, a spiritual quest brought Alan to India, where he studied meditation under the guidance of several masters. Since then, he has not learned of anything more clear, direct, or able to answers our deepest questions than Jyoti (Inner Light) meditation; and he lovingly donates his time for others to learn of these meditation teachings and techniques. He also recently contributed a chapter to Meditation as Medication for the Soul, a collaborative book by best-selling author Rajinder Singh (2012).
Sos.org/usa/newengland
Dr. Alan Post instructs the following:

Derived from a Sanskrit term meaning Inner Light, Jyoti meditation is a non-sectarian practice that calms the mind while opening to the universal source of inner peace "hidden" within every person. Each session includes some instruction, a meditation sitting, discussion, and sometimes a short, helpful discussion/video by Sant Rajinder Singh, current living master of this tradition.

The programs are offered by the Science of Spirituality, a not-for-profit, international organization, dedicated to love, unity, and service to humanity.

All are welcome.

Sat, 4:30pm-6:00pm, Oct 7 • Nov 4 • Dec 2,

Free



This free class is at our

South Kingstown location.