Barbara Gee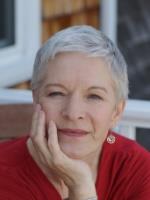 Barbara's many years of teaching yoga, ayurveda and meditation draw from the wisdom traditions of Sankhya, Buddhism, and Tantra. She is registered with the Yoga Alliance at the E-RYT 500 level. Her additional certifications include Ayurvedic Health Educator (AHE), Trauma Informed Yoga Therapy (TIYT), Yin Yoga, and Yoga Nidra, among others.
Her love of yoga began as a teenager in London, where she grew up. She continued on this path, taking in knowledge from other schools such as shiatsu and aikido along the way. As her background became deeper and more varied, she continued to strengthen her foundation in yoga.
Barbara is known for her warmth and humor. Her classes are heart-centered and welcoming. She freely encourages expressions of individuality: "We are all unique. Yoga should fit you – not the other way around." To learn more about Barbara visit www.KumbhakYoga.com.
The author of two books on gardening, Barbara is also a Master Gardener and professional writer. Visit: www.BarbaraGee.com.
Barbara Gee instructs the following:
Is there something missing from your yoga practice? Do you have a sense that there could be more?

Ayurveda may be your answer!


Ayurveda is a 5,000-year-old Indian holistic system of healing, known as yoga's sister science. These two practices work together to strengthen one another.

According to Ayurvedic philosophy, life manifests as three energies, known as the doshas. These energies make up the natural world, of which we are a part. The flow of life moves the doshas into and out of balance, affecting our physical health, energy level, spiritual stability, and emotional equilibrium. Ayurvedic practices work to bring the doshas into balance.

Discover how Ayurveda supports your yoga practice. Learn an Ayurvedic approach to self-care, that works seamlessly with your yoga practice. Explore the role that food, herbs, and lifestyle play in keeping you vibrantly healthy.

In this introductory workshop you will learn:

• Ayurvedic philosophy and theory
• Ways to determine your dosha
• How your doshic makeup affects your life
• Which yoga practice is best suited to your dosha
• Self-care Ayurvedic techniques

Leave with a reading and resource list for further study.

No experience necessary.




Sat, Jun 3, 2:30-4:30pm

$30

This workshop is at our

East Greenwich location.