Emma Nahod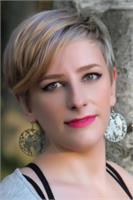 Emma was first drawn to the yoga mat in 2009, looking for a physical practice. After parting ways with a life long study of dance, she was looking for a new and more compassionate way to move her body. Yoga turned out to not just be a form of exercise but an empowering way of life. She felt such a profound transformation, she knew she had to share the gift of yoga with others. Emma completed the 200-hour teacher training at the Kripalu Center in 2010 and has been teaching (and learning!) full time ever since.
In the tradition of Kripalu yoga, self compassion is the foundation for all Emma's classes. Regarding this as yoga's greatest gift to her, she leads classes that allow the student to lovingly meet themselves where they are. With creative sequencing and a playful style, she guides an experience to reconnect body, breath, mind, and heart. Emma is passionate about integrating the tools of yoga into every day life. She hopes to inspire and guide people in their own yoga, on and off the mat.
Emma Nahod instructs the following:
This Yoga I/II blended class includes key instruction for beginner yogis, while offering options for experienced yogis to deepen and further their practice. Teachers address various levels while adapting to students' needs.




Yoga I is ideal for students new to yoga as well as seasoned practitioners looking to reconnect with the foundations of yoga. Yogis build strength and flexibility for the body and mind by incorporating the principles of proper body alignment and breath awareness. This foundational class teaches basic yoga postures and includes breathing and centering exercises, with verbal cues to help inspire and guide practice.




This is one of our

Focused

classes.

Build grace in the body through the influence of dance in this yoga class at the barre. The practice focuses on alignment, stability, balance and strength. Barre work facilitates a strong understanding of how the body works on and off the yoga mat. No prior dance experience required to enjoy Yoga Barre I, which is appropriate for all levels.