Aria Mia Loberti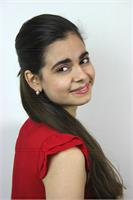 Aria Mia began practicing and studying yoga to nourish her health as she healed from a long-term illness. After experiencing the revitalizing benefits that yoga had on her health, Aria Mia began to zealously analyze and explore the practice. She received her 200-Hour Certification from Kripalu Center for Yoga & Health and is an Experienced Registered Yoga Teacher through the Yoga Alliance. Her yoga teaching is influenced by her years of classical Russian ballet training and theater performance experience.
Aria Mia is currently a Communication Studies, Political Science, and Biology triple major, with Rhetoric and Philosophy minors, at The University of Rhode Island. She is also a robust advocate for gender and disability equality on the local to international levels. Corresponding to her work "off-the-mat", she brings an equivalent passion, intellectual approach, and lighthearted attitude to her yoga classes. Dedicated to the compassionate and integrative Kripalu methodology, she focuses on safety, awareness, physiological benefits, strength building, and dynamic alignment principles. She encourages students to take the tools of self-inquiry and mindfulness, fostered through the practice of yoga, off the mat and into the world.
Note: Aria Mia works with a Guide Dog, Ingrid, who during yoga sessions will sit or lie quietly on duty alongside Aria Mia's mat. For more about Guide Dogs, visit https://www.guidedogs.com/explore-resources/general-information/guide-dog-access-laws, or inquire with Aria Mia or an All That Matters Front Desk Goddess.
thelifegeek.blogspot.com
Aria Mia Loberti instructs the following:
A 45 minute version of our regular Stretch + Breathe for those days when you don't have a lot of time, but still want to move!

This gentle class helps yogis release tension and unwind. Welcoming all levels, Stretch + Breathe pairs gentle, lengthening movements with breath work to create a balanced experience of groundedness, fluidity, and ease—both physically and energetically.




This Yoga I/II blended class includes key instruction for beginner yogis, while offering options for experienced yogis to deepen and further their practice. Teachers address various levels while adapting to students' needs.