Dr. Robert Van Horn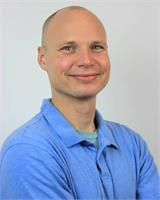 Robert Van Horn, Wan Hong (萬 鴻), has studied meditation in the lineages of Adyashanti and Thich Nhat Hanh for over fifteen years. He teaches meditation and self inquiry. He has learned Tai Chi and Qigong from Master Wen Ching Wu and Master Kenneth Cohen, and recently became the eighth person in the world to complete Master Cohen's rigorous Qigong Teacher Training Program. He is a Svaroopa® yoga teacher, Reiki Master (trained by William Rand), certified Energy Medicine practitioner, and author. He practices Qigong, Tai Chi, Svaroopa®, and Meditation every day.
Dr. Robert Van Horn instructs the following:
This is one of our

Focused

classes.

Tai Chi is an ancient Chinese internal martial art form practice in which specific sequences of mindful movements and breathing stimulate a state of concentrated calm. The aim of Tai Chi is to cultivate the qi or life energy to flow smoothly and powerfully throughout the body.





This is one of our Focused classes.

A Svaroopa-style class, Restorative for the Spine is based on core release and spinal decompression using precise alignments to open the body from the tailbone to the top of the spine. With the support of blankets, students are encouraged to relax into poses that release deep tension in and along the spine. Often this release quiets the mind, reduces pain, helps accelerate injury recovery and promotes better overall health. Restorative for the Spine is led by a certified Svaroopa yoga instructor.

Please note, this class is not suitable for women pregnant in their first trimester or students with organ transplant on immunosuppressant medications.




This is a free community offering.

Connect with what matters the most – your inner wisdom. Through guided and silent meditations as well as spiritual talks experience an opportunity to be still, go within, and explore your true nature. Meditating in a group lends power to its effectiveness and enhances the development of individual practice.

Join us to create a meditation community that meets regularly. All welcome!




Qigong (literally energy practice) is a system of healing developed in ancient China. The practice of gentle movements and meditations cleanses, fortifies, and circulates qi (life energy) throughout the physical and energetic body. Qigong can help reduce stress, enhance strength and vitality, foster mental tranquility, and offer harmony with nature.





Take time this afternoon to practice guided and silent meditations, listen to spiritual talks, and connect with your true nature. Meditating in a group lends power to its effectiveness and enhances the development of individual practice, especially over a longer period of time. Discover the benefits of being still and going within and leave with the ability to quiet your mind and recharge. If you are new to the practice of meditation, this retreat offers the basic foundations on which to build one. If you already have and enjoy a meditation practice, don't miss this opportunity to take your practice even deeper.

Retreat Theme:

December: Poetry, the Dharma, and the Art of Silent Illumination:
Come explore poetry and spiritual teachings in meditative stillness, the profound ground of illumination.

Bring a snack. All welcome. No experience necessary.

Click here

to sign up for Robert's free Weekly Meditation and Self Inquiry group held on Wednesdays, 6pm-7pm.

Sat, Dec 9, 12:30pm-5pm,

This workshop is at our

South Kingstown location.