Dr. Robert Van Horn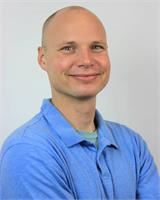 Robert Van Horn, Wan Hong (萬 鴻), has studied meditation in the lineages of Adyashanti and Thich Nhat Hanh for fifteen years. He teaches meditation and self inquiry. He learned Tai Chi and Qigong from Master Wen Ching Wu and Master Kenneth Cohen. He is a Svaroopa® yoga teacher, Reiki Master (trained by William Rand), certified Energy Medicine practitioner, and author. He practices Qigong, Tai Chi, Svaroopa®, and meditation every day.
Dr. Robert Van Horn instructs the following:

This is one of our Focused classes.

A Svaroopa-style class, Restorative for the Spine is based on core release and spinal decompression using precise alignments to open the body from the tailbone to the top of the spine. With the support of blankets, students are encouraged to relax into poses that release deep tension in and along the spine. Often this release quiets the mind, reduces pain, helps accelerate injury recovery and promotes better overall health. Restorative for the Spine is led by a certified Svaroopa yoga instructor.

Please note, this class is not suitable for women pregnant in their first trimester or students with organ transplant on immunosuppressant medications.




This is a free community offering.

Connect with what matters the most – your inner wisdom. Through guided and silent meditations as well as spiritual talks experience an opportunity to be still, go within, and explore your true nature. Meditating in a group lends power to its effectiveness and enhances the development of individual practice.

Join us to create a meditation community that meets regularly. All welcome!




Qigong (literally energy practice) is a system of healing developed in ancient China. The practice of gentle movements and meditations cleanses, fortifies, and circulates qi (life energy) throughout the physical and energetic body. Qigong can help reduce stress, enhance strength and vitality, foster mental tranquility, and offer harmony with nature.




This is one of our Focused classes.

Restorative Yoga uses blankets, bolsters and pillows to fully support the body in foundational yoga postures, without muscular exertion. Deep but passive, Restorative Yoga can enhance a vigorous practice, and is also well suited for beginners as well as those with injuries. This grounding practice soothes the nervous system and helps boost the immune system.