Amanda Cooney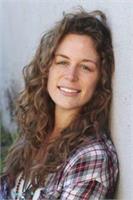 Amanda is attracted to yoga for the way it connects body, mind, and spirit to the Self. She began her personal practice as a way of self-reflection, and in yoga classes she was instantly drawn to the dynamic energy of syncing breath with a room full of like-minded people. After joining the All That Matters staff in 2014, Amanda became inspired to spread her knowledge of self-awareness within her community. Continuing down her spiritual path, she immersed herself in yogic philosophy and anatomy through the All That Matters 200-hour Pranotthan Yoga School Teacher Training, and graduated in 2016.
Connecting movement with breath, Amanda teaches a diverse vinyasa-inspired flow and offers modifications throughout to accommodate every body. She gradually guides her students into postures designed to accommodate their personal needs, with full body awareness of alignment and breath. Allowing time for integration and reflection, Amanda's classes leave students feeling connected with a sense of wholeness.
Amanda Cooney instructs the following:
Vinyasa Flow I/II is a moderately paced Vinyasa practice that connects movement and awareness to breath in a dynamic sequence. Classes introduce inversions, backbends and arm balances as well as yoga philosophy for students looking to expand their physical practice and deepen their understanding of the many facets of yoga.




This introductory Vinyasa Flow class moves at a gentle pace to establish strength, flexibility, and balance within a continuous sequence of postures. Vinyasa Flow I is designed for newer and intermediate students looking to hone in on proper alignment while honoring and exploring the connection between movement, breath and mindfulness—the fundamental building blocks of Vinyasa.




This candlelit class offers a meditative transition into the evening through a slow flow. Sequences are crafted to work the body and release muscle tension while creating space for self-care and unwinding from the day.