Tara Beaulieu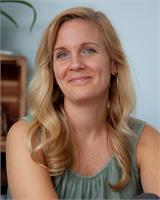 Tara Beaulieu received her 200 hour yoga teacher certification from Pranotthan Yoga School through All That Matters. A lifelong student of music and art, Tara's practice is guided by her creative process: finding a balance between intuitive living and mindful action. Making the choice to step out of the workforce and stay home with her three boys and pursue her art, she learned that the secret to living a consciously happy life is to practice listening to one's self. Making space for inner knowing, trusting your instincts and above all honoring your personal truth paves a clear path for happiness in our lives.

Walking the beach during early morning hours, Tara realized a stillness within the natural rhythm of the sea. It is this meditative quality that inspires both her artwork and her yoga teachings. Like the movements of the ocean, Tara is drawn to the tranquil fluidity of Vinyasa. She encourages her students to allow the breath to be a teacher. To be present with themselves so they might notice the quality of their breath, and use it to guide their practice. Tara strongly believes that learning to interpret the signals that are inherent to our being (tuning in to our life force) brings with it an awareness and understanding that allows us to heal ourselves. All we need to do is listen. In addition to teaching yoga and raising her family, Tara is a sea glass artist and silversmith.
Tara Beaulieu instructs the following:
This Yoga I/II blended class includes key instruction for beginner yogis, while offering options for experienced yogis to deepen and further their practice. Teachers address various levels while adapting to students' needs.




In this Vinyasa-style class, students explore their personal and physical edge—as well as self-awareness and intention—by cultivating core stability through complex poses (such as inversions and balancing postures) in sequences that invite precision and mindfulness. Yogis stretch and strengthen muscles while energizing the body and stimulating the mind.




This upbeat class uses music to create an energizing atmosphere for a fast-paced flow-style workout combining traditional yoga poses with light weights, strength-training moves and cardio intervals. The benefits of a traditional yoga practice are amplified to include higher calorie burn and muscle toning.

Be sure to bring water and a towel!




This dynamic and challenging class serves those who strive to deepen their yoga practice. Yoga II/III is a creative exploration of yoga postures that balance physical challenge with mindfulness. Yoga experience is encouraged as this classes focuses on refinement and precision.




Yoga on the Beach runs from July through the beginning of September only.
Join us on the South Kingstown Beach on Matunuck Beach Road. Bring a yoga mat, blanket or beach towel and sun block, and wear layers. Parking is free for students. If it rains class will be cancelled, and can be made up in any All That Matters yoga class. If you do not pre-register please bring $16 cash.

Directions to South Kingstown Town Beach from All That Matters:
1. Take Route 1 South and follow signs to Matunuck Beach Road.
2. Take Matunuck Beach Road exit. The exit will be on the left (so you will be going North on Route 1 once you make the U-Turn on the left).
3. From Route 1 North, take the first exit on the right, which is Matunuck Beach Rd. Follow the road almost to the end of the long straight stretch until you see signs for South Kingstown Town beach on the right. (If you've passed the Vanilla Bean you have gone too far.)
4. Turn right into the South Kingstown Town Beach parking lot. Tell the attendant you are there for yoga. Walk past the playground and the buildings to the field beyond (follow the path and the Yoga on the Beach signs).


Note: This is NOT at Narragansett Beach.




Vinyasa Flow I/II is a moderately paced Vinyasa practice that connects movement and awareness to breath in a dynamic sequence. Classes introduce inversions, backbends and arm balances as well as yoga philosophy for students looking to expand their physical practice and deepen their understanding of the many facets of yoga.