Katherine Conte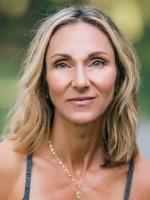 Katherine Conte, MA, ERYT, is an inspired guide to natural healing methods for overcoming physical, emotional, and spiritual challenges. She has her masters in Art Therapy and has completed numerous yoga trainings including her 300-hour certification with Yapana Yoga, and her Meridian Yoga Teacher Training with Daniel Orlansky. She is also an Overcoming Anxiety Clinic Facilitator and a certified trauma informed yoga therapist (TIYT), helping others to manage anxiety, panic and PTSD.
As a yoga teacher, Katherine is known for leading strong, deep classes that fine tune movement and asana. Whether she's mentoring private clients or teaching groups, Katherine's strength is creating a healing environment, directing people to core issues, and walking with them into the light of vibrant wellbeing.
Katherine Conte instructs the following:
This is one of our

Flow

classes.

In this Vinyasa-style class, students explore their personal and physical edge—as well as self-awareness and intention—by cultivating core stability through complex poses (such as inversions and balancing postures) in sequences that invite precision and mindfulness. Yogis stretch and strengthen muscles while energizing the body and stimulating the mind.




This Yoga I/II blended class includes key instruction for beginner yogis, while offering options for experienced yogis to deepen and further their practice. Teachers address various levels while adapting to students' needs.





Come learn more about your most intimate partner–your breath!

Above all else, the breath is the most accurate marker for how you are living your life. Many experts believe ailments or dis-ease in your life – from headaches to irritability to insomnia (to name a few) – can be eased and possibly even eradicated by simply breathing better. In this workshop, explore the anatomy of breath and discover the mechanics of breathing and common breath patterns. Focus on the main breathing muscles and areas in the body that, when constricted, diminish the range and depth of breath. And finally, be guided through a series of postures designed to open and free breathing.

If you take one workshop all year, let this be the one!

All welcome.

Sat, Mar 11, 2pm-4:30pm,

$49

This workshop is at our

East Greenwich location.