Katherine Conte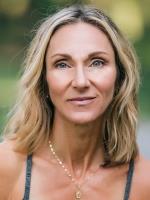 Katherine Conte, MA, ERYT, is an inspired guide to natural healing methods for overcoming physical, emotional, and spiritual challenges. She has her masters in Art Therapy and has completed numerous yoga trainings including her 300-hour certification with Yapana Yoga, and her Meridian Yoga Teacher Training with Daniel Orlansky. She is also an Overcoming Anxiety Clinic Facilitator and a certified trauma informed yoga therapist (TIYT), helping others to manage anxiety, panic and PTSD.
As a yoga teacher, Katherine is known for leading strong, deep classes that fine tune movement and asana. Whether she's mentoring private clients or teaching groups, Katherine's strength is creating a healing environment, directing people to core issues, and walking with them into the light of vibrant wellbeing.
Katherine Conte instructs the following:
This Yoga I/II blended class includes key instruction for beginner yogis, while offering options for experienced yogis to deepen and further their practice. Teachers address various levels while adapting to students' needs.




This is one of our

Flow

classes.

In this Vinyasa-style class, students explore their personal and physical edge—as well as self-awareness and intention—by cultivating core stability through complex poses (such as inversions and balancing postures) in sequences that invite precision and mindfulness. Yogis stretch and strengthen muscles while energizing the body and stimulating the mind.





This yoga therapy clinic is designed for those that suffer from chronic stress, anxiety, GAD, Panic Disorder, and PTSD. Join master yoga teacher and certified yoga therapist Katherine Conte in exploring self-healing modalities which are effective and profoundly liberating when combating the debilitating effects of anxiety.


During the first class, discover what happens in the mind and body while experiencing anxiety. Receive tools to "turn off" the fight or flight response, and "turn on" the relaxation response.


In addition, learn, practice and take home:

•breath work and meditation skills.
• gentle movement techniques to help to break the psychological, biochemical, and physical cycles that keep anxiety in your life.
• ways to eventually and completely overcome anxiety.
• extended guided meditation.
• program handout with daily exercises and lifestyle suggestions to do on your own.

The more you know about anxiety and how to use the tools to regulate it, the more empowered you become to drive your own self-healing journey.

Please note: Within the group setting, this will be a private and personal experience with no group work or activities. You will never be asked to speak publicly. The utmost care and attention is given to accommodate those that are not comfortable in social situations.

4 meetings: Sat, 1-3pm, Sep 30, Oct 7, 14, 21
$165 Member Discount 10%

This workshop is at our

Providence location.