Sara Davidson Flanders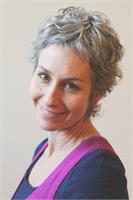 Sara began her study of yoga and meditation in 1992 and started teaching yoga in 1997. Her extensive asana training includes alignment-based flow, vinyasa, therapeutics, prenatal and more. In 2007 she became a certified Anusara yoga teacher.
She teaches group classes, private session, workshops, and anatomy and teacher trainings. She has lived residentially at two different meditation centers, and is presently studying and practicing meditation from the non-dual Tantric yoga lineage. Sara teaches a method of artful movement informed by intelligent and graceful sequencing, biomechanics, alignment, and a strong foundation of philosophy and meditation. For the student who wants to feel connected to their innately wise and joyful spirit while also feeling safe, strong, and free in their body, Sara's class will feel like home.
Sara Davidson Flanders instructs the following:
This dynamic and challenging class serves those who strive to deepen their yoga practice. Yoga II/III is a creative exploration of yoga postures that balance physical challenge with mindfulness. Yoga experience is encouraged as this classes focuses on refinement and precision.




This is one of our

Flow

classes.

In this Vinyasa-style class, students explore their personal and physical edge—as well as self-awareness and intention—by cultivating core stability through complex poses (such as inversions and balancing postures) in sequences that invite precision and mindfulness. Yogis stretch and strengthen muscles while energizing the body and stimulating the mind.





Purna is a Sanskrit word that means full, complete, and whole- Perfect for the eve of the full moon and the eve of the New Year! This class invites you to honor the full culmination of your year's dedication and effort, to celebrate the abundant blessings of this past year, and to cultivate an intimacy toward your intention for the new year.

Join All That Matters' teacher Sara Davidson Flanders for a rich and wise practice sure to include deep honoring forward folds and hip openers, as well as playful and courageous heart openers. This will be a class for healing, remembering, envisioning, and embodying Wholeness, Fullness, and Luminosity of Spirit.

The class is open to all levels.

Sun, Dec 31, 3pm-5pm,
$25 pre-registration, $30 at the door

Member Discount 10%.

This workshop is at our

Providence location.