Alexa Ellis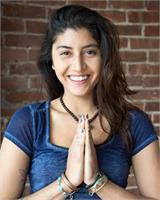 Alexa's mission is to bring all beings back to the Self. "My Body, My Compass" is her mantra to remembering the body's inherent wisdom. Alexa discovered Ashtanga Yoga in Australia in 2010 and paired her personal practice with conscious dance. On this path, Alexa is rediscovering her own divine humanness and intuitive healing capabilities through natural living, tending to the Earth, and building community. She has studied under Devarshi Steven Hartman and graduated from the Pranotthan Yoga School.
Classes focus on movement initiated by breath, building from the ground up, and cultivating soulful self-expression in each pose. Classes are built to embody experience of opposing forces in nature: stillness vs. movement, warming vs. cooling, effort vs. ease. The intention is to liberate students to discover their own unique dance along these spectrums of being.
Alexa is pursuing her masters of Holistic Counseling and CAGS Expressive Arts Therapy.
Alexa Ellis instructs the following:
This Yoga I/II blended class includes key instruction for beginner yogis, while offering options for experienced yogis to deepen and further their practice. Teachers address various levels while adapting to students' needs.




This is one of our

Focused

classes.

Yin Yoga poses are performed seated or lying down using props and slow transitional movements that massage and lubricate the body's sheath of connective tissue as well as the mind's power of observation. Sustaining each pose for a period of time pairs intentional stillness with steady compression to signal a "rest and restore" mode for the central nervous system thus promoting digestion, muscle repair and organ detoxification.