Alexa Ellis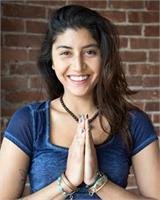 Alexa's mission is to bring all beings back to the Self. "My Body, My Compass" is her mantra to remembering the body's inherent wisdom. Alexa discovered Ashtanga Yoga in Australia in 2010 and paired her personal practice with conscious dance. On this path, Alexa is rediscovering her own divine humanness and intuitive healing capabilities through natural living, tending to the Earth, and building community. She has studied under Devarshi Steven Hartman and graduated from the Pranotthan Yoga School.
Classes focus on movement initiated by breath, building from the ground up, and cultivating soulful self-expression in each pose. Classes are built to embody experience of opposing forces in nature: stillness vs. movement, warming vs. cooling, effort vs. ease. The intention is to liberate students to discover their own unique dance along these spectrums of being.
Alexa is pursuing her masters of Holistic Counseling and CAGS Expressive Arts Therapy.
Alexa Ellis instructs the following:
This is one of our

Flow

classes.

This introductory Vinyasa Flow class moves at a gentle pace to establish strength, flexibility, and balance within a continuous sequence of postures. Vinyasa Flow I is designed for newer and intermediate students looking to hone in on proper alignment while honoring and exploring the connection between movement, breath and mindfulness—the fundamental building blocks of Vinyasa.