Jennifer Nauck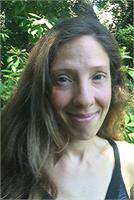 Jen first practiced yoga in 2003, when a friend working on yoga teacher certification encouraged her to stop in and join a free class. The combination of movement, breath, and focused attention resonated with Jen, who was learning to blow glass at the same time. In yoga, she found a personal expression of the same opposing forces she experienced in the glass studio: heating and cooling, stability and fluidity, control and surrender, effort and effortlessness. Jen embraced and nurtured a personal yoga practice for the next 12 years, which then blossomed into a desire to pursue yoga more deeply in All That Matters' Pranotthan School of Yoga Teacher Training. She received her 200-hour yoga teacher certification in 2016.

Jen's teaching style is ultimately an amalgamation all her previous teachers' styles, combining Hatha and Vinyasa as well as techniques that have emerged from her own practice, and promoting stability while encouraging fluidity. She encourages breath linked with movement, as well as an awareness of the heart as the center of one's own solar system.
Jennifer Nauck instructs the following:
This gentle class helps yogis release tension and unwind. Welcoming all levels, Stretch + Breathe pairs gentle, lengthening movements with breath work to create a balanced experience of groundedness, fluidity, and ease—both physically and energetically.




This Yoga I/II blended class includes key instruction for beginner yogis, while offering options for experienced yogis to deepen and further their practice. Teachers address various levels while adapting to students' needs.




Yoga I is ideal for students new to yoga as well as seasoned practitioners looking to reconnect with the foundations of yoga. Yogis build strength and flexibility for the body and mind by incorporating the principles of proper body alignment and breath awareness. This foundational class teaches basic yoga postures and includes breathing and centering exercises, with verbal cues to help inspire and guide practice.