Bhakti Prem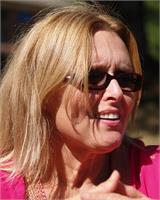 Bhakti, a lifelong yoga enthusiast and former director of Anahata Yoga School in Providence, has been avidly immersed in the study of the Bhagavad Gita for the past several years. She returns to RI to share with others the wealth of understanding and experience she has been fortunate to receive.
Bhakti's lively teaching style, a creative synthesis of the experiential, informative and heartfelt, helps others easily drop into new depths of insight and inner connection. She believes there is no matter more important than "care of the soul" -Socrates, and discovering our relationship to the divine for living a meaningful and satisfying life.
Bhakti Prem instructs the following:

Complete relaxation occurs only as a result of alleviating all three levels of tension: physical, emotional, and mental.

Join Bhakti Prem and experience deep relaxation. The process is simple: Rest comfortably on your back and be guided through visualizations and gentle breath work. This induces a tranquil state of consciousness, between wakefulness and sleep, in which the body and mind attain the thorough physiological rest and revitalized health needed to protect itself against the harmful influences of stress.

No previous knowledge is necessary to enjoy this deeply relaxing experience. Anticipate leaving with feelings of being centered, refreshed, and at peace.




Some studio props are available for use. If you have your own, please bring a yoga mat, blanket, small pillow (for head), and eye pillow.

Sun, 10:30am-11:45am, Jun 25

$20




This workshop is at our

East Greenwich location.





Experience the magic of Gita Parayama – recital of the Bhagavad Gita in English to its original meter. An English rendition has never before been available and is just now being brought out to the world!


Gita Parayama is a meditative, joyous and inspiring experience that will open your heart and expand your mind.


Join Bhakti for this illuminating monthly program to recite selected verses, explore the concepts presented and investigate how to incorporate the Gita's dharma and blessings into your life.


Great thinkers and seekers through the ages have turned to the Bhagavad Gita for inspiration, solace and guidance. What is the attraction? What is it about this dialogue between Arjuna and Shri Krishna that speaks so potently and poignantly to us? Why not find out for yourself?

Sun, 12:00pm-1:00pm, Jun 25,
$15




This workshop is at our

East Greenwich location.