Bhakti Prem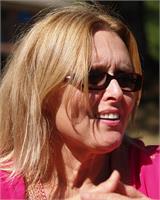 Bhakti, a lifelong yoga enthusiast and former director of Anahata Yoga School in Providence, has been avidly immersed in the study of the Bhagavad Gita for the past several years. She returns to RI to share with others the wealth of understanding and experience she has been fortunate to receive.
Bhakti's lively teaching style, a creative synthesis of the experiential, informative and heartfelt, helps others easily drop into new depths of insight and inner connection. She believes there is no matter more important than "care of the soul" -Socrates, and discovering our relationship to the divine for living a meaningful and satisfying life.
Bhakti Prem is currently not instructing any classes.