Allison Scott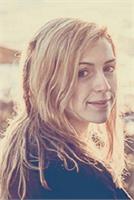 Allison has been practicing yoga since 2007 and teaching since 2013, when she received her 200-hour Vinyasa Yoga certification. Since early 2016 she has continued to take and assist trainings for Kripalu School of Yoga and Ayurveda, from which she received her 500-hour certification. Allison holds additional certifications in Yin, Children's/Special Needs, Hoopyasa, and Ayurvedic Yoga, and is a trained Reiki and Sound Healer. She fuses her passion for these profound modalities together to create a well-rounded and holistic approach to healing and maintaining physical, mental, and energetic balance year-round.

Allison has a very dedicated and heart-centered approach to yoga practice, and encourages this for her students as well. She believes in using yoga as a vehicle to come home to one's Self, and to shed light on those thoughts, patterns and beliefs that continually keep one from fully and truthfully expressing their authentic selves. She teaches a meditative style flow to promote introspection and contemplation using keen awareness of the breath.
Allison Scott instructs the following:
This is one of our

Flow

classes.

Vinyasa Flow I/II is a moderately paced Vinyasa practice that connects movement and awareness to breath in a dynamic sequence. Classes introduce inversions, backbends and arm balances as well as yoga philosophy for students looking to expand their physical practice and deepen their understanding of the many facets of yoga.




This is one of our

Focused

classes.

Yin Yoga poses are performed seated or lying down using props and slow transitional movements that massage and lubricate the body's sheath of connective tissue as well as the mind's power of observation. Sustaining each pose for a period of time pairs intentional stillness with steady compression to signal a "rest and restore" mode for the central nervous system thus promoting digestion, muscle repair and organ detoxification.