Virginia Reardon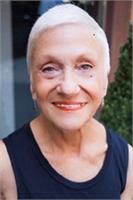 Virginia Reardon has enjoyed a long, successful career as a professional ballet dancer. It all began at the age of 7 in Providence when she became a student of the legendary Lidia Pettine known as "the first lady of Rhode Island dance." Lidia was a great inspiration and instilled in Virginia a life-long passion for classical ballet. This early training led to studying and working in New York City with Ballet Russe de Monte Carlo and the prestigious American Ballet Theater, touring Europe with the American Festival Ballet Company, and eventually living in Europe with her husband.
Upon returning to New York, Virginia's passion for the creative arts led to an exciting new sense of purpose when friend and client, Colleen Saidman Yee, inspired her to pursue yoga. It came as no surprise that a strong connection between the two worlds was revealed. Virginia's interest in yoga led her to All That Matters, where Kendall Sheldon encouraged her to pursue teacher training. She completed the All That Matters' 200-hour Pranotthan Yoga Teacher Training in 2014 and registered with the Yoga Alliance. Virginia now divides her time between the excitement of NYC, where lives part-time and teaches yoga, and the serenity of Rhode Island. She enjoys offering Yoga Barre, which encompasses the best of both worlds -- classical ballet and yoga – and reflects the fusion of her training past and present. She encourages alignment, strength, balance and stability on and off the yoga mat, while inspiring the inner dancer in all of us.
Virginia Reardon is currently not instructing any classes.