Joe Hayes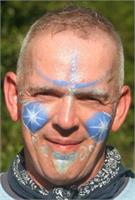 Joe Hayes is the co-founder and proprietor of SoundScapers, a practice that over the past seven years has brought sound healing events to hundreds of healing centers, schools, yoga studios, and other venues, to thousands of attendees throughout New England. His teachers include Suran Shrestha of Nepal, and Federico Para (Sacred Voice) of Paris. His practice includes the didgeridoo, sacred chant, the shruti box, Native American trance drumming, and a full complement of quartz crystal, Tibetan, and fusion sound bowls.
Joe is also the founder of New England Drummers, an online community of over 1000 hand-drummers from throughout New England. He teaches both West African Drumming and Native American Drumming to groups and individuals. Joe is an award-winning author, and will soon release his fourth book. You can follow him on Facebook at J. g. Hayes, as well as Soundscapers Drumming.
Joe Hayes is currently not instructing any classes.