Amy McPhee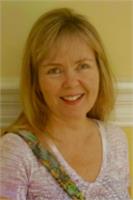 Amy McPhee, who has trained under Yogi Amrit Desai, has had the honor of bringing the beautiful art and science of yoga to hundreds of students since 2004. She has completed 500 Training Hours in Asana, Meditation, Anatomy and Breathwork. Her teaching style is fluid, her instruction is easy to understand and her calming nature helps students feel supported. Amy makes students feel at ease with her soothing voice. She intuitively adapts her teaching to meet the needs of her students, offering greater challenge to those who welcome it. One of Amy's greatest joys is watching a student gradually transform through his or her practice.
Amy McPhee instructs the following:
The practice of yoga coupled with the infusion of sound healing is an unbeatable pair for anyone seeking complete balance of mind, body and spirit. Each energy center (chakra) responds to the healing vibrations of the 7-quartz crystal singing bowls on a deep and personal level. Join Amrit Yoga Instructor Amy McPhee and Sound and Energy Healer

Christine Johnston

for a unique inward journey through gentle body movement and stimulation of your senses.

Take your overall wellness to the next level with:

• Better body strength, flexibility, balance and posture
• Decreased body stiffness and pain
• Improved mental focus and body awareness
• Improved sleep
• Improved immune system and decreased anxiety

Enjoy this life enhancing practice on the path to a happier, healthier you!

All levels welcome.




Sun, 3:00-4:30pm, Mar 12 • Apr 30 • May 21
$25

Member Discount 10%.

This workshop is at our

East Greenwich location.