Shannon Walker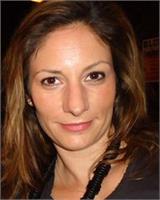 Shannon's classes are a potent mix of yogic philosophy, movement, and curiosity. She sees yoga as a transformative process allowing us to return to our true selves again and again. Her roots are in a strong and playful Vinyasa but she has lots of love for Yin, Restorative, Therapeutics, and Somatic movement. She is inspired to teach from a place of moving with fine awareness, in hopes to reconnect her students both body and soul.
Shannon received her first 200 level certification through Patti Doyle, of Thames Street Yoga in 2011. She has studied extensively with her teacher Raghunath since 2011 and was granted an honorary 300 hour certification after studying with him in India.
Of recent, she completed a 300 level certification with her friend and teacher Theresa Murphy in the Prajna lineage of Tias Little.
Always a student, Shannon continues her study with her root teachers, Theresa and Raghunath, as well as Carrie Owerko, Patricia Walden, and Tias Little when she can.
Shannon Walker instructs the following:
Join Shannon Walker for a restoring Pre-Thanksgiving practice to get grounded and collected in mind, body, and spirit before the ritual of busyness. This practice will center around a vinyasa flow class with a side of Yin yoga for insight and Restorative yoga for contemplation. The pace will be slow and nourishing for all levels of practitioners.




This Yoga I/II blended class includes key instruction for beginner yogis, while offering options for experienced yogis to deepen and further their practice. Teachers address various levels while adapting to students' needs.