Aaron Diamond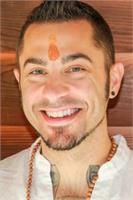 Aaron received his 200hr YTT from Devarshi Steven Hartman and Jovinna Chan through the Pranotthan School of Yoga at the Omega Institute in Rhinebeck, NY in 2014. Since then Aaron has been teaching studio classes & running workshops throughout central CT. He also has assisted the Pranotthan ATM YTT in 2016 and several workshops at Kripalu.
During the last three years Aaron has been training with several national teachers including Devarshi, Raghanauth, Matt Giordano, Dylan Werner and Patrick Beach but most prominently mentoring under Justin Wolfer. Under Justin's mentorship Aaron has learned how to slow down his practice and create controlled grace by putting emphasis on the spine while consciously moving through space with purpose. He blends martial arts movement with yoga to create a fluid vinyasa practice.
Aaron Diamond instructs the following:

Yoga isn't just about the postures. It's also about the transitions. It's not just about making a shape. It's how you move through space. The practice of conscious movement starting from the spine creates beautifully fluid movement. This workshop helps you understand the strength and alignment needed for those graceful transitions between the postures.

The approach to creating a fluid vinyasa practice is to simply slow down and find ease within the motion. To move softly through the transitions. We do this by cultivating an awareness of the spine. Focusing on the central line of energy creates more mobility between the vertebrae, which promotes balance and health throughout the whole body.

In this workshop, focus on:

Spinal Articulation
Floating Basics
Wrist Health/Hand Engagement
Strength building for dynamic movement

Leave this workshop with a solid understanding of the spine and its role in creating magically fluid transitions, floating with ease and strength building for vinyasa. The workshop includes theory, demonstrations, exercises, meditation and flow.

Sat, Jul 29, 4-6pm

$30




Member Discount 10%.

This workshop is at our

South Kingstown location.