Alexandria Crow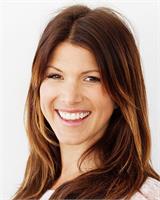 Alexandria Crow's yoga experience has been a journey of transformation that has led to self acceptance and a sense of ease with herself and the world around her. The physical challenges of a rigorous yoga asana practice initially provided a natural familiarity for the former competitive gymnast, through injury and inquiry her practice and teaching has evolved towards sustainability. The study of the yogic philosophy has given her tools she uses to approach life with steadiness. Her practice has taught her the importance of accessing the present moment and how one's thoughts are not an accurate representation of who each of us are at the source. With this clarity, she's able to live life with more ease.
Alex shares her personal experience of the transformative nature of a yoga practice with her students. Her classes are unique in their style and are wisely designed and are based on the actual mechanics of the body and allow students to explore their personal range of motion and capabilities in relation to each class's focus. She asks her students to observe the roots of their actions to know why they are making certain choices and to understand that while they can or cannot do something doesn't necessarily mean that they should on either side. She teaches her students to experience the impermanent sensations of the body while watching how those sensations beget thoughts and how those thoughts beget an action that may or may not always be wise or based in the present moment. Alex's emphasis on paying attention and her insistence on each individual respecting their own uniqueness encourages them to love and celebrate who they are. It's this love of their own unique perfection that creates true change in her students so they can connect with more grace to themselves, to others and to the world.
Alex is an internationally respected teachers' teacher who leads teacher trainings and workshops around the world. Through her Yoga Physics methodology she aims to clearly explain in the simplest terms the what, why's and how's of asana, meditation and yogic philosophy making the practice approachable for everyone, of every level and of every walk of life. She shares this knowledge with her students and other teachers so they can practice and teach wisely, sustainably and mindfully. Her continuing education workshops and 300 hour teacher intensive train teachers to be better informed on yogic philosophy, the physical mechanics of the body and how they apply to asana. Her Yoga Physics mentorship program is helping teachers build on their strengths, develop their weaknesses while discovering their own unique voices.
Alexandria Crow instructs the following:

Why do we do asana? What are we trying to learn and/or access in these postures? In this
lecture/discussion we will look at the philosophy behind a yoga practice and how to bring that
consciousness and understanding to the physical practice. This awareness when layered upon
the poses makes for a complete practice that can bring about transformation and growth both in
the physical body and one's approach to how they live.





The nervous system, skeletal range, and basic biomechanics
We will begin by looking at how the nervous system affects the body and it's range of motion.
The class will begin with at least an hour long physical asana practice where students will set a
baseline of their personal range of motion and skeletal structure both before and after the
transition their nervous system into the parasympathetic system. Class will be followed with a
lecture and diagnostic lab where we will look at the basic biomechanics of all the joint regions in
the body in relation to the most common shapes performed in class and discuss the general
amount of range that can be expected out of each joint region and what to do if there is
limitations.





The hip and spine perform a biomechanical dance that, when understood, allows a wise
approach to postures such as Forward Folds, Arm Balances, Hip Openers and Basic
Backbends. Class will begin with at least an hour long asana class aimed at learning ones
individual skeletal structure and range of motion in the ankle, knee, hip and spine allows
students to approach postures with wisdom and can help prevent unnecessary injuries in these
areas. We will look at how these joints are affected in standing, seated, and other categories of
postures. Class will be followed by a lecture where students will learn about how the hip's
limitation and position impact the spine, learn underlying reasons for the range of motion in the
hip and how to keep your lower back and SI region safe.





Asana can and does injure students' wrists, elbows and shoulders far too often, but it's
something that can be avoided. There are some basic skeletal issues that need to be
understood in relation to the upper extremities and shoulders as they impact poses where body
weight is placed on the hands. We will begin with at least an hour long asana class designed to
allow students to explored these regions of their body in both weight bearing and non-weight
bearing poses. Class will be followed by a lecture where the anatomy and mechanics of these
joint regions will be explored and discussed and students individual range of motion and
strength will be looked at as it relates to common postures in class allowing them to learn how
to modify and work with wisdom for their own unique physicality.





In a similar fashion to the hip and spine, the shoulder and spine also participate in a partnership
that can help strengthen and stabilize those regions preventing injury when functioning properly.
Drawing on the information from the earlier modules while adding in newly learned information
in this workshop, students will start with an asana practice with the full body in mind and bring
all of the pieces together. We will then dissect the shoulder girdle and spine as they relate to
inversions and backbends that may have previously been out of reach from an understanding of
your own unique structure. We will also look at how twists function within the spine and how to
approach them with the underlying layers of the body in mind. At the end of this workshop
students will know their own unique body, it's range, and how to work with it with wisdom in any
asana class they attend.