Kendall Sheldon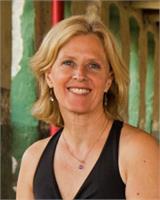 Kendall Sheldon, a founding teacher of All That Matters' yoga program (1995), comes from a family of yogis. Practicing with both her mother and uncle, and meeting Swami Kripalu set her on her path as a teenager. Certified by the Kripalu Center in 1980 and Phoenix Rising Yoga Therapy Center in 1994, Kendall has been sharing yoga with students and clients for over 30 years. In 2009 she completed the advanced training in Integrative Restoration (iRest®) with Richard Miller, PhD – who developed this modern adaptation of the ancient meditation practice of yoga nidra. Kendall is also a senior teacher in the Pranotthan Yoga Teacher Training at All That Matters since 2013.
Kendall teaches yoga as a practice of self-inquiry that invites students to experience their greatest potential.
Kendall Sheldon instructs the following:
Yoga I is ideal for students new to yoga as well as seasoned practitioners looking to reconnect with the foundations of yoga. Yogis build strength and flexibility for the body and mind by incorporating the principles of proper body alignment and breath awareness. This foundational class teaches basic yoga postures and includes breathing and centering exercises, with verbal cues to help inspire and guide practice.




This is one of our

Flow

classes.

This introductory Vinyasa Flow class moves at a gentle pace to establish strength, flexibility, and balance within a continuous sequence of postures. Vinyasa Flow I is designed for newer and intermediate students looking to hone in on proper alignment while honoring and exploring the connection between movement, breath and mindfulness—the fundamental building blocks of Vinyasa.




This is one of our

Focused

classes.

In this class yogis explore key yoga postures and breathing techniques while learning how to enhance and modify the practice to fit each individual body. Class emphasizes just plain feeling good, and special needs may be addressed.