Mel Fox Olsen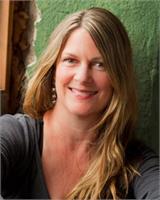 Mel Fox Olsen is certified in Prana Flow® Yoga at the 500 hour level. She holds a bachelor's degree in psychology & painting and a Master of Arts Degree in Teaching in Visual Art from Rhode Island School of Design. She is certified in expressive arts and Reiki. Mel is a practicing artist exhibiting her paintings in local galleries and yoga studios. Mel focuses on the integration of the healing arts as a way to tap into the creative force that dwells in each of us. She loves being inspired by nature and brings the elements into her yoga practice and paintings. In her classes and workshops she explores the chakras and energetic alignments in the body through visualization, journaling, art making, pranayama, meditation & asana. Mel is available for private instruction in yoga as well as art.
Mel Fox Olsen instructs the following:
Vinyasa Flow I/II is a moderately paced Vinyasa practice that connects movement and awareness to breath in a dynamic sequence. Classes introduce inversions, backbends and arm balances as well as yoga philosophy for students looking to expand their physical practice and deepen their understanding of the many facets of yoga.




Core Flow classes teach students to move from their center during strengthening Vinyasa sequences. Emphasis is placed on how awareness of the body's power center impacts and sustains every pose. Cultivation of the core enhances balance, embodiment, confidence and grace.




This introductory Vinyasa Flow class moves at a gentle pace to establish strength, flexibility, and balance within a continuous sequence of postures. Vinyasa Flow I is designed for newer and intermediate students looking to hone in on proper alignment while honoring and exploring the connection between movement, breath and mindfulness—the fundamental building blocks of Vinyasa.