Claudia Wojcik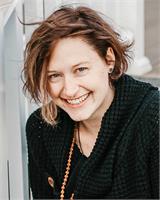 Claudia's studies began when she was young, learning from many masters of life. Her interests in the realm of natural health deepened in 2001, and after practicing for many moons she joyfully received her 200-hour yoga teaching certificate from Kripalu, and continued with yoga trainings in Restorative Yoga and Yin Yoga. Claudia has furthered her studies with training in Thai Shiatsu Bodywork, Reiki, and Shamanic Journeying and she will always be a student who is eager to learn.

Claudia's passion is in finding inner strength from within, and she brings a positive energy to all her classes. She is deeply interested in exploring the juice – the space in between poses, shapes, and movement – and creating release through movement and natural health. She feels that safely exploring movement and mindfulness is the key to unlocking the unknown and gaining confidence from the inside out. She continues to be curious about the human body and how we all transition through life. Claudia is inspired by her hobbies, which include kayaking, nature photography, and exploring the outdoors with her husband Matt and their sweet pup Otis.

In addition to group yoga classes Claudia offers private yoga sessions, Thai Shiatsu Bodywork, and Reiki. Contact Claudia at info@healthandwellnesswithclaudia.com.
Claudia Wojcik instructs the following:
This gentle class helps yogis release tension and unwind. Welcoming all levels, Stretch + Breathe pairs gentle, lengthening movements with breath work to create a balanced experience of groundedness, fluidity, and ease—both physically and energetically.