Amanda Kingma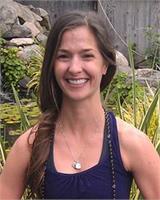 Amanda Kingma teaches Prana Flow® Yoga, a fluid style of vinyasa created by Shiva Rea. A practitioner of yoga since she was 15 years old, Amanda has studied styles including hatha, ashtanga, and Baptiste yoga, and chose to explore Prana Flow® Yoga deeply for the creativity and spontaneity it embraces. She completed 200-hour and 500-hour certifications in Prana Flow® Yoga with Coral Brown – in 2010 and 2012 respectively – both at All That Matters.
Harnessing the power of breath, students in Amanda's classes learn to move with their bodies instead of against them. With a light-hearted and energetic yet nurturing approach, she offers practitioners many options within the flow of practice suited to all levels.
A gardener, kayaker, and enthusiastic walker of her dog Sabrina, Amanda also founded Root to Leaf Apothecary, which provides earth-conscious body products, including aromatherapy spritzers carried in the All That Matters store. She is a certified Ayurvedic Yoga Therapist, as well, and sees clients in one-on-one sessions that address a range of health issues.
Amanda Kingma instructs the following:
This is one of our

Flow

classes.

Vinyasa Flow I/II is a moderately paced Vinyasa practice that connects movement and awareness to breath in a dynamic sequence. Classes introduce inversions, backbends and arm balances as well as yoga philosophy for students looking to expand their physical practice and deepen their understanding of the many facets of yoga.