Laura Sarlitto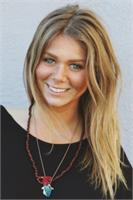 Laura first began her personal yoga practice at the age of 13 as an organic way to manage anxiety. Upon joining the All That Matters staff in 2014, she found a community with which to share her practice, and immediately fell in love with the collective energy found in a room full of like-minded people. Laura naturally gravitated towards the 200-Hour Pranotthan Yoga Teacher Training held at All That Matters, and graduated in April 2016.
Laura's classes bring you back to the heart of yoga. Her teaching is inspired by Vinyasa-style flow, and she encourages movement that feels inspired by each student's inner voice. Laura offers a safe and welcoming environment in which students of all levels can feel comfortable exploring their edge and moving through their practice with love and self-acceptance.
Laura Sarlitto instructs the following:
This is one of our

Flow

classes.

This introductory Vinyasa Flow class moves at a gentle pace to establish strength, flexibility, and balance within a continuous sequence of postures. Vinyasa Flow I is designed for newer and intermediate students looking to hone in on proper alignment while honoring and exploring the connection between movement, breath and mindfulness—the fundamental building blocks of Vinyasa.




This gentle class helps yogis release tension and unwind. Welcoming all levels, Stretch + Breathe pairs gentle, lengthening movements with breath work to create a balanced experience of groundedness, fluidity, and ease—both physically and energetically.