Julie Diana Shore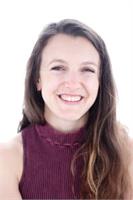 Julie Diana Shore teaches yoga to share what the practice brought into her own life. A California native, Julie was introduced to yoga as a child and developed a formal practice in high school, knowing even then that she wanted to teach. She audited her first teacher training in 2003 and Golden Bridge Yoga Center in Los Angeles before heading to Bard College, where she completed her BA in Liberal Arts. Shortly after graduation she moved to Providence, Rhode Island. She discovered Eyes of the World in 2010 where she received her teaching certification 2012.
Julie is constantly studying and developing her practice as a teacher. Lately her teaching has been largely influenced by the transitional styles of Sadie Nardini and Meghan Currie. Her classes translate a technical knowledge of vinyasa asana practice, with underpinnings of yogic philosophy which point to developing mindfulness and compassionate awareness. She teaches from her direct experience of yoga as an inclusive, energizing and empowering practice.
Julie Diana Shore instructs the following:
This is one of our

Flow

classes.

Core Flow classes teach students to move from their center during strengthening Vinyasa sequences. Emphasis is placed on how awareness of the body's power center impacts and sustains every pose. Cultivation of the core enhances balance, embodiment, confidence and grace.




This is one of our

Focused

classes.

Because the hips function as the center of gravity in the body, an imbalance in the hips is often felt throughout the entire body. Creating a balanced state of both mobility and stability in the hip joint and the surrounding muscles enhances healthy living, steadiness and optimum performance. This class is devoted to releasing tension in the hips by working deeply to stretch and strengthen the myriad muscle groups in and around the pelvis. Prior yoga experience is strongly recommended for this class.