Mimi Budnick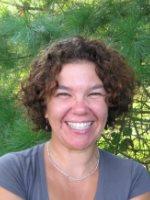 Mimi has had a committed practice since 2002 and received her 200-hour certification from Tom Gillette at Eyes of the World in 2010. Mimi's interest in the impact of physical and emotional trauma on the body, and her desire to more explicitly help people use yoga as a tool for healing prompted her to study Therapeutic Yoga with Cheri Clampett and Arturo Peal, and Restorative Yoga with Jillian Pransky. She has also studied with Bessel van der Kolk and David Emerson of the Trauma Center at the Justice Resource Center in Cambridge.
Drawing on her history as a community organizer and adult educator, Mimi strives to connect with her students and create an environment that feels open, welcoming, and accessible to students of diverse backgrounds and needs. Whether leading more challenging classes for experienced yogis, or teaching beginners and populations with limited mobility and physical/emotional challenges, Mimi reminds her students that yoga is about more than the physical postures - the asanas are a vehicle to help bring about a more unified state of consciousness and the real work of yoga takes place off the mat.
Mimi Budnick instructs the following:
This is one of our Focused classes.

Restorative Yoga uses blankets, bolsters and pillows to fully support the body in foundational yoga postures, without muscular exertion. Deep but passive, Restorative Yoga can enhance a vigorous practice, and is also well suited for beginners as well as those with injuries. This grounding practice soothes the nervous system and helps boost the immune system.