Sara Davidson Flanders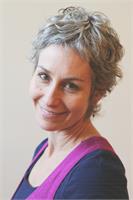 Sara began her study of yoga and meditation in 1992 and started teaching yoga in 1997. Her extensive asana training includes alignment-based flow, vinyasa, therapeutics, prenatal and more. In 2007 she became a certified Anusara yoga teacher.
Sara teaches a method of artful movement informed by intelligent and graceful sequencing, biomechanics, alignment, and a strong foundation of philosophy and meditation. She teaches group classes, private session, workshops, and anatomy and teacher trainings. She has lived residentially at two different meditation centers, and is an authorized teacher of Neelakantha Meditation as taught by Blue Throat Yoga. For the student who wants to feel connected to their innately wise and joyful spirit while also feeling safe, strong, and free in their body, Sara's class will feel like home. www.fullradiance.com
Sara Davidson Flanders instructs the following:
This is one of our

Flow

classes.

Anusara yoga weaves together biomechanically precise, clear alignment and heart-oriented philosophy. Anusara philosophy is rooted in the belief that underlying all of life is an intrinsic energy of oneness, wholeness and radiance. This class is wonderfully suited for students wanting to learn vinyasa flow, as well as for experienced vinyasa students wanting to deepen their understanding and practices.