Dorie O'Halloran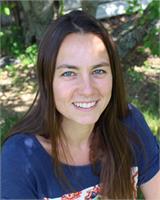 Dorie began her yoga practice in 2004 by exploring a variety of teachers and styles through DVDs in the privacy of her home gym. As she immersed herself in her own trauma recovery, she became a Reiki practitioner in 2011. In the spring of 2014, Dorie attended her first studio yoga class and discovered the joy of practicing in a community. By May of 2015, Dorie completed her 200-hour yoga teacher training through the partnership of Focus Yoga and Innerlight Center for Yoga and Meditation. She went on to become certified as a Trauma Informed Yoga Teacher through Sundara Yoga, a Restorative Yoga Teacher through Sudha Carolyn Lundeen, and received her 500-hour certification with Sara Davidson Flanders and Daniel Orlansky.
Dorie believes that each body brings its own unique practice of yoga to the mat. It is through breath work and movement that the Essential Self is remembered, energy is moved, and release takes place. As she is a believer in "movement is medicine", Dorie's classes bring attention to alignment, play with simple flows, and nurture the body with breath. Students are invited to cultivate deep listening, to discover what their practice needs in each moment on and off the mat.
Dorie O'Halloran instructs the following:
Yoga I is ideal for students new to yoga as well as seasoned practitioners looking to reconnect with the foundations of yoga. Yogis build strength and flexibility for the body and mind by incorporating the principles of proper body alignment and breath awareness. This foundational class teaches basic yoga postures and includes breathing and centering exercises, with verbal cues to help inspire and guide practice.