Martha Langer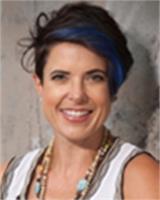 It was in 1995 when Martha began volunteering at All That Matters and fell in love with yoga. From that point on she was able to establish a routine of self care, centering and relaxation. She became a registered yoga instructor through Spirit Tree Training in 2008, and was fortunate to also participate in a 200-hour training with Katherine Conte in 2011. Martha brings a mix of fun and athleticism to her teaching. She is committed to helping others find, what for her is the heart of yoga—taking time, and being aware. For Martha, yoga is a tool that helps keeps her centered, patient and compassionate. She is a freelance graphic designer, who also loves trail running and sailing.
Martha Langer instructs the following:
This gentle class helps yogis release tension and unwind. Welcoming all levels, Stretch + Breathe pairs gentle, lengthening movements with breath work to create a balanced experience of groundedness, fluidity, and ease—both physically and energetically.




This Yoga I/II blended class includes key instruction for beginner yogis, while offering options for experienced yogis to deepen and further their practice. Teachers address various levels while adapting to students' needs.