Charlotte Love Lombardi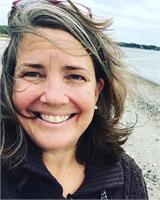 As a life-long explorer of creative arts and holistic wellness, the practice of yoga came to Charlotte in 2000 while raising a young family. During those early years of motherhood, Charlotte also developed a love for gardening, knitting and sewing. She draws upon those activities to deepen her own relationship to yoga and meditation. As Charlotte's family grew, so did the balancing importance of yoga. Experiencing Kripalu, Hatha, Baptiste and Prana Vinyasa styles ultimately led Charlotte to complete both her 200 and 500-hour Prana Vinyasa Yoga Teacher Trainings, created by Shiva Rea and taught by Coral Brown. Charlotte is a perennial student of yoga and attends yearly trainings and workshops.
Charlotte's classes draw upon the tenets of Prana Vinyasa through creative sequencing and yoga philosophy. She invites students to slow down, be present and tune in to their own practice and expression of flow via the breath. Charlotte's classes reflect her belief that transformative healing is enhanced and stress and anxiety are reduced when one learns to slow down and connect to their inner rhythm.
Charlotte is a graduate of the University of Rhode Island, a URI Master Gardener, and holds certificates of completion in Reiki I and as an Expressive Arts Facilitator from Salve Regina University.
Charlotte Love Lombardi instructs the following:
This is one of our

Flow

classes.

This introductory Vinyasa Flow class moves at a gentle pace to establish strength, flexibility, and balance within a continuous sequence of postures. Vinyasa Flow I is designed for newer and intermediate students looking to hone in on proper alignment while honoring and exploring the connection between movement, breath and mindfulness—the fundamental building blocks of Vinyasa.