Joanna Read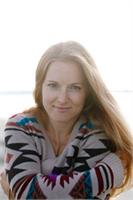 Joanna discovered yoga in 2005 as a means of supporting her athletic lifestyle, not realizing how profoundly nourishing the practice would grow to be for her psyche and soul. She completed her first 200 hour yoga teacher training with Tom Gillette and Shannah Green at Eyes of the World Yoga in 2015, and received an additional 200 hours in Prana Flow with Coral Brown, and 60 hours with Shri Yoga's Path of Service, in 2017. Her classes emphasize the core fundamentals of a safe and sustainable vinyasa yoga practice, connecting with breath and heart. Her aim as a teacher is twofold: to deepen her own understanding of yogic philosophy and practice, and to serve as a guide for students to open to the deep wisdom of their own bodymind.
On and off the mat, Jo draws from a colorful background in movement, mindfulness, and adventure-based practices to craft dynamic experiences that explore and redefine the edges of one's comfort zone. As an artist, educator, community-builder, and coach, yoga is the thread that connects the physical, psychological, and spiritual intersections of her passions. Learn more at joannaread.com.
Joanna Read instructs the following:
This is one of our

Flow

classes.

In this Vinyasa-style class, students explore their personal and physical edge—as well as self-awareness and intention—by cultivating core stability through complex poses (such as inversions and balancing postures) in sequences that invite precision and mindfulness. Yogis stretch and strengthen muscles while energizing the body and stimulating the mind.




This is one of our

Flow

classes.

Vinyasa Flow I/II is a moderately paced Vinyasa practice that connects movement and awareness to breath in a dynamic sequence. Classes introduce inversions, backbends and arm balances as well as yoga philosophy for students looking to expand their physical practice and deepen their understanding of the many facets of yoga.




This Yoga I/II blended class includes key instruction for beginner yogis, while offering options for experienced yogis to deepen and further their practice. Teachers address various levels while adapting to students' needs.