MJ Yeager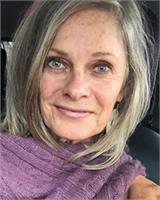 Visual artist MJ Yeager has been a yoga practitioner for more than 20 years. She completed her Kripalu 200-hour training in 2012 and yin yoga certification in 2015. She blends 30 years of fitness, 2 levels of Reiki, life-earned wisdom and a bit of humor into the mix. As in the tradition of yoga, she focuses on the blending of breathe, movement and mindfulness. Postures are sustained and powerful. Her classes are designed for intermediate level, though a beginner is made to feel comfortable in the group.
MJ Yeager instructs the following:
This is one of our

Flow

classes.

This Vinyasa-style class invokes mindfulness through a slowly flowing practice built on dynamic movement and breath. Emphasis is placed on embodying both stillness and motion to cultivate strength, engagement, and awareness. This class is suited for all levels of practitioner and offers students space to explore presence and peace.

This class is done in a heated room. The heat encourages greater flexibility and detoxification. Yoga experience is necessary and students are asked to bring a towel, mat and water.




This Yoga I/II blended class includes key instruction for beginner yogis, while offering options for experienced yogis to deepen and further their practice. Teachers address various levels while adapting to students' needs.




This is one of our

Focused

classes.

Yin Yoga poses are performed seated or lying down using props and slow transitional movements that massage and lubricate the body's sheath of connective tissue as well as the mind's power of observation. Sustaining each pose for a period of time pairs intentional stillness with steady compression to signal a "rest and restore" mode for the central nervous system thus promoting digestion, muscle repair and organ detoxification.

Note: Saturday's 3:30 pm class in SK explores the nuances of Yin Yoga from the varied perspectives of rotating seasoned Yin teachers.




This is one of our

Focused

classes.


In the Yogic tradition, the human body has seven main energy centers called Chakras (Sanskrit for "wheel" or "disc"). When these energy centers are vibrant, spinning and open, we are physically, emotionally, and spiritually in balance and well. This class brings awareness to the distinctive qualities of each Chakra through teachings, moving meditation, and a flowing asana practice. Essential oils and/or use of the Nepalese singing bowl may be incorporated during extended savasana to emphasize the attributes of each energy center.