Forrest Dwyer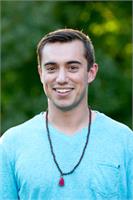 Forrest was raised on the philosophy of yoga. Absorbing the wisdom of these ancient practices from a young age, the heart of yoga shines in his teaching. With his parents owning 3 yoga studios, he has learned from many yogis who have traveled through his home. It wasn't until after his collegiate baseball career that Forrest fully dove into his personal yoga practice. He quickly fell in love with the presence that yoga brought into his life and went on to receive his 200 hour yoga teacher certification through the Pranotthan School of Yoga, hosted by All That Matters in Wakefield, RI. He now lives and teaches in Boston while assisting in the Pranotthan Yoga Teacher Training.
Through the practices of yoga, Forrest encourages people to inquire within. He uses yoga as a practice to continually increase joy and presence in his life as well as his students.
Forrest Dwyer instructs the following:
This Yoga I/II blended class includes key instruction for beginner yogis, while offering options for experienced yogis to deepen and further their practice. Teachers address various levels while adapting to students' needs.