April Huth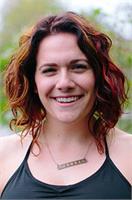 April's path to yoga began after playing team sports; she enjoyed the physical demands but was uneasy with the concept of a winner and a loser. She was also uncomfortable with the aggressive nature of sports. In the summer of 2010 when April began practicing yoga, she was attracted by the physical nature of the postures but even more fascinated that ego and competition played no part in the practice. That led April to a greater appreciation for yoga and an in-depth self-study. She was inspired by the mind and body connection in texts written by Chopra, Iyengar, and Baptiste. In the fall of 2011 she took her practice to the next level when she certified at Chagrin Yoga to teach Power Vinyasa.
Her teaching style is peaceful and creative, specializing in an energetic vinyasa style class. She also teaches the basics for students that want to focus on foundations or those just beginning their practice. April's calm, peaceful demeanor is an asset in the classroom and her introspective nature reflects positivity in her teaching. Her serenity comes from her great love and respect for nature and the environment. "I believe that yoga is so multi-faceted, you can take home anything you gain from the practice. As humans I feel as though we can never stop growing, learning, and evolving and yoga is a gateway to do so. My hope is to inspire my students as I have been inspired."
April Huth is currently not instructing any classes.