Julia Strickler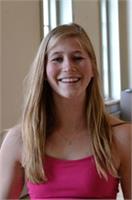 Julia began practicing yoga at age 14, when her little sister started beating her on the tennis court and she needed something new. One class with Joanie Flavin and she was hooked! Two years later she completed a 200hr Prana Flow certification with Coral Brown and shortly after she continued towards her 500hr certification with Coral as well. In 2017 Julia graduated from the University of Miami with a degree in Exercise Physiology and she is currently pursuing a Masters degree in Kinesiology at URI. Her thesis focuses on physiological markers of oxygen metabolism and its effects on the aging process in experienced yogis.

Julia's classes unite her vinyasa background with a deep understanding in kinesiology and body awareness. Her classes are led with warmth and humor to provide students with the tools to dive into the inherent rhythm of their own bodies.
Julia Strickler instructs the following:
Yoga I is ideal for students new to yoga as well as seasoned practitioners looking to reconnect with the foundations of yoga. Yogis build strength and flexibility for the body and mind by incorporating the principles of proper body alignment and breath awareness. This foundational class teaches basic yoga postures and includes breathing and centering exercises, with verbal cues to help inspire and guide practice.




This is one of our

Flow

classes.

Vinyasa Flow I/II is a moderately paced Vinyasa practice that connects movement and awareness to breath in a dynamic sequence. Classes introduce inversions, backbends and arm balances as well as yoga philosophy for students looking to expand their physical practice and deepen their understanding of the many facets of yoga.




This is one of our

Flow

classes.

This introductory Vinyasa Flow class moves at a gentle pace to establish strength, flexibility, and balance within a continuous sequence of postures. Vinyasa Flow I is designed for newer and intermediate students looking to hone in on proper alignment while honoring and exploring the connection between movement, breath and mindfulness—the fundamental building blocks of Vinyasa.