Candace Phelan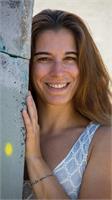 Candace Phelan began practicing yoga in 2013 by exploring a home yoga practice after making a shift in her exercise routine. She found a deep love and passion for yoga, rooting her practice by becoming a member of All That Matters in 2015 and graduating from the Pranotthan Yoga School at All That Matters in April of 2018.
Candace's classes offer a safe, compassionate, and fun space for students to explore their physical and energetic bodies through postures, breathe work, and meditation.
Candace Phelan instructs the following:
A 45 minute version of our regular Stretch + Breathe for those days when you don't have a lot of time, but still want to move!

This gentle class helps yogis release tension and unwind. Welcoming all levels, Stretch + Breathe pairs gentle, lengthening movements with breath work to create a balanced experience of groundedness, fluidity, and ease—both physically and energetically.




This Yoga I/II blended class includes key instruction for beginner yogis, while offering options for experienced yogis to deepen and further their practice. Teachers address various levels while adapting to students' needs.