Jeff Costa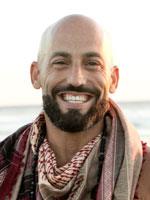 Jeff has been a teaching professional in the health and fitness industry for 29 years. He began in the field of dance at Boston University which lead to group exercise and personal training in myriad formats for companies including Nike, Reebok, Crunch Gym, Kellogg's and others. Jeff spent a decade in Hollywood as a celebrity personal trainer and enjoyed a career as an international fitness presenter for industry conventions around the world.
Jeff returned home to Massachusetts and graduated in 2013 from the Kripalu School under the direction of Devarshi Steven Hartman. Since then, Jeff has assisted, Devarshi, as well as Jovinna Chan and Jurian Hughes, in workshops at Kripalu, Omega and Esalen, and in the Pranotthan Yoga School 200-hour YTT at All That Matters, South Kingstown. Currently he teaches yoga and meditation for private clients, group classes, and on retreat. Jeff is also a recovery coach and shares the tools of transformative yoga with individuals and families struggling with substance use disorders.
Jeff is known for leading transformative yoga, fitness and dance classes that blend high vibration presence with a shoot-from-the-hip teaching style and authentic charm.
Jeff Costa is currently not instructing any classes.