Charlie Silvia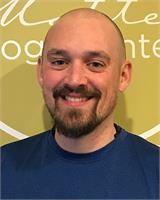 Charlie attended his first yoga class in 2012 from the recommendation of a cycling friend, but was not turned on to the immense depth and power that yoga had to offer until he met his now wife, Elle, in 2014. He received his 200-hour training at West End Yoga Center in 2015, and plans to pursue his 500-hour certification in the near future.
Charlie's classes are a blend of movement and stillness inspired by his training and personal practice. His interest in Buddhism and meditation is evident in his teaching style. Charlie often invites students to sustain poses, allowing for time to slow the breath and experience their environment . Holding space for a safe and inquiry based practice is always a priority when he steps on to his mat.
Charlie Silvia instructs the following:
This Yoga I/II blended class includes key instruction for beginner yogis, while offering options for experienced yogis to deepen and further their practice. Teachers address various levels while adapting to students' needs.