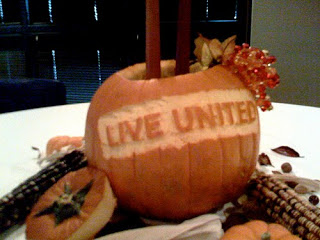 To me this is such a fun and exuberant holiday! It also fills me with delight to know that not only do the people in this country like to honor this holiday, but the WHOLE WORLD. It invites a sense of union, community and (in a ironic way) peace. Most

everyone

knows that things can get a little wild and crazy, but there's a communal understanding that it is because of this day, this tradition, that everything really is OK and we can let go.
Maybe we can apply this is our lives for everyday living. Not by exactly dressing in costumes and invoking a sense of fear on people, but to let ourselves go in simple and subtle ways.
If you like Halloween because you can really get into making some sweet home-made costumes, consider taking some time to really acknowledge this creativity in you and apply it to daily situations. You'll never be bored or down on yourself if you have a project to work on!
If you like Halloween because you get to indulge in some candy, give yourself than once a year and DO NOT feel guilty about it. Plus there are many organic, and healthier holiday treats you can make;)
If you like Halloween because you invite the sense of fear into your life, try some more challenges! Whether it be on or off the mat, build yourself up to overcome any type of fear you might have and start checking off that bucket list.

All in all, Halloween is a special time for different reasons, and when you discover your own think of how you can keep this joy and communal spirit going through good and bad!
now where's that candy....