Animal Communication with Danielle McKinnon
Fri, Nov 14, 7pm-9pm+Sat, Nov 15, 9am - 4pm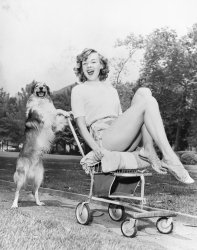 Did you ever wish you could work intuitively with the animal kingdom? Have you ever wanted to communicate with your pet to discover a greater understanding? All That Matters is excited to welcome back highly gifted intuitive, coach, and leading edge animal communicator, Danielle MacKinnon for 2 wonderful workshops.
Danielle MacKinnon, named one of the country's best psychic mediums, challenges you to connect on a soul level with both animals and people alike. Danielle has learned that humans are intricately woven into the lives of their animals, and has honed her unique talent of working with both you and your pet to uncover the real
why
behind behavioral issues, temperament problems and animal behavior.
On Friday evening, join Danielle as she offers random audience readings in this fun event aimed at exploring why and how these pets have chosen to come into our lives. Learn how to decipher their behavior so you can communicate on a deeper level with your furry best friend. On Saturday, Danielle teaches you how to communicate with your animal's soul as you discover and develop your animal intuitive senses to cultivate a deeper connection. Explore how you can tap into that universal language to dive deep into the wants and needs of your pet.